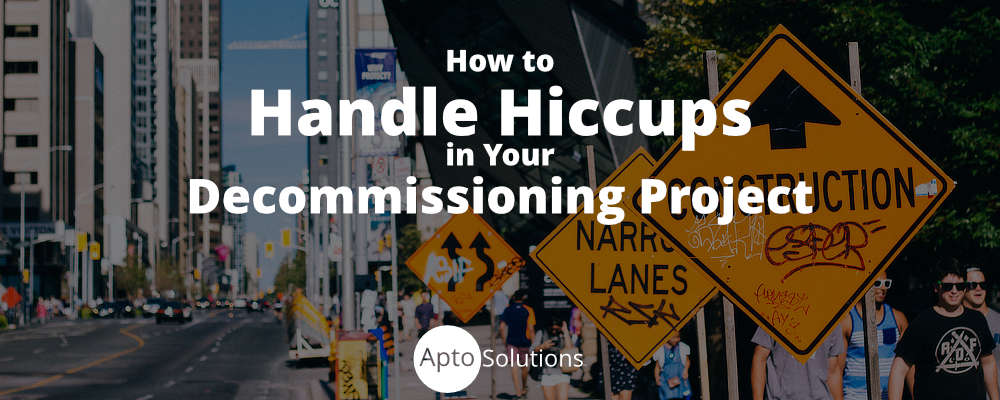 Last time we talked about how to set a project up for success, but what do you do if things start to break down mid-project anyway? This week learn to handle hiccups.
Surviving Scope Creep
How many times have you started a project only to realize that it was actually going to require far more resources and take far longer than you originally estimated?
Welcome to scope creep.
When the scope changes mid-project, how you handle it can be the difference between a successful project and a train wreck. At Apto, our name means to adapt, so when things get crazy, we kick in and make the best of it.
By planning when beforehand, you can make adjusting during the project easier.
1. Build in Contingency Internally and With Partners.
Before the project begins…build in some contingency. This margin should exist internally, and with any partners that you work with for the project. If you ship equipment, make sure you have the space for a few more pieces. If you service equipment, build in the time for a few more changes.
Never work at the edge of your ability to deliver.
If you don't leave a margin, Murphy's Law will catch up with you, and your project will slip.
2. Provide Timely Alternatives If You Just Can't Right Now.
But what if you use up your contingency?
That's where communication and responsiveness kick in. Immediately communicate the issue to your primary stakeholders, and move quickly to offer timely alternative resolutions to the issues.
By responding quickly with a plan for how you will resolve the project hiccup, you can instill confidence in the project and set appropriate expectations for when the newly enlarged scope of the project will be completed.
3. Have (or Build) a Process for Everything.
At Apto, we have an approved process for every project that we do. Rarely, when we run across a scenario that's never happened to us before, we pull together as a team to fix it. Then we build that into a process so that we have a strong plan should it ever happen again.
4. Fix It First. Settle Up Later.
If you were at a wedding and you ran out of champagne, would you present the bride and groom with an order form to sign before you agreed to bring more champagne for the toast? Not if you want them to enjoy themselves!
No bride and groom want to interrupt their celebrations so that they can sign a purchase order. Your customers will probably react the same way during their project.
At Apto, we're spoiled by having great relationships with our customers. Because of this, we'll do whatever needs to be done to help the project run smoothly. Then we settle up later.1
Examples: Restoring Balance
So, how can a decommissioning project go sideways? Oh boy…plenty of ways! Here are just a couple that we've seen, and how we handled it.
Pallets on Pallets on Pallets
We showed up to a fairly simple project that was scoped to pick up 5 pallets of equipment and deliver them to our facility to be processed. However, on arrival, we found there were 15 additional pallets. We used our margin and worked with the carrier to transport all 20 pallets in 2 runs back to our facility. After the second truck left, our team onsite found another 15 pallets, so we called the trucks back. By the time they arrived there were another(!) 12 pallets and some televisions that needed to go also.
The scope grew from 5 pallets to 47 pallets and some extra televisions!
But, by using our margin and adjusting quickly with our partners, we were able to accommodate the extra scope.
Data Surprise
At another customer, we arrived on site only to find that none of the equipment had been wiped as we expected. Instead, we'd need to wipe every piece before we could pack up the equipment and transport it back to our facility. This was something that we just couldn't accommodate immediately.
Instead, we pressed pause on the project for a day while we overnighted remote wiping equipment to our onsite staff. The next day, our IT team was able to initiate and oversee the wipes remotely protecting their vital data and getting the project back on track.
Stay Flexible, My Friends
So you can see that when it comes to decommissioning projects, things can go a different direction quickly, but it's how you plan for and react to these changes that make the difference between a successful project and an organizational disaster.
Planning for your next decommissioning project?
Let us help you manage the hiccups.
To make this go smoothly (and avoid surprises on the invoice) we'll discuss contingency pricing ahead of time. That way we can easily suggest a solution without leaving anyone in the dark. ↩︎
---