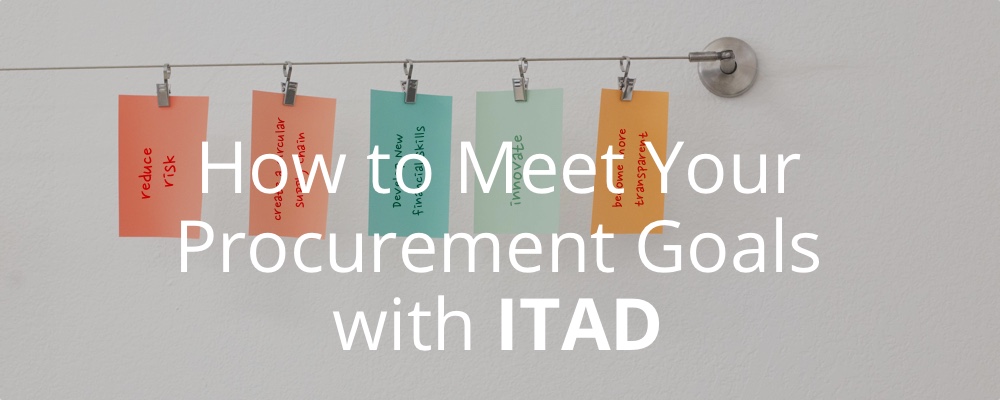 Procurement is a tough gig. You have pressures from all sides. From your suppliers who are trying to creep costs up over time to stakeholders who demand an increasing speed of business to management who wants to cut costs as far as possible. You're more than a buyer of things, and it's time to prove it.
Niul Burton has written about the changing requirements of global sourcing and the challenges that your supply chain faces in the future. Did you know that IT Asset Disposition (ITAD) can help you prepare for and meet these goals in at least 4 ways?
Risk
The world is risky. ITAD helps you managed your company's exposure by safely sanitizing data, and making sure that your used equipment doesn't end up in landfills. I can already envision your legal team thanking you for mitigating your company's risk through a secure and reliable decommissioning strategy. Plus, you can take advantage of multicast wiping technologies to clean up even faster. You're welcome, Legal.
Sustainability
The dollar is no longer king. With the increase in corporate sustainability initiatives, factors such as sustainable sourcing, social value, and the circular economy are gaining steam – the procurement office sits in a unique position to help manage this process. You can arrange for the reuse of procured products and you can extend your reach by piggy-backing the established networks of ITAD companies to help you meet these goals by reusing and recycling your unwanted enterprise technology.
Finance and Innovation
But the dollar isn't dead. In the future, Niul argues, procurement will have to expand their financial skillsets and work closely with finance. What if procurement could bring in money by recovering the value typically lost during the ITAD process? What if you could reuse that money to establish a circular economy program alongside your product development team? Now we're getting somewhere.
Transparency
More visibility means more scrutiny and also more positive exposure. By knowing where your equipment comes from and where it ends up and how much each step costs, you can inject transparency into a difficult and opaque process. The increased transparency finally gives procurement teams a chance to show off what you've known this whole time: You are making a difference every day. Plus, with integrated management tools like AptoPulse, you can gain visibility into the entire ITAD process, and measure the value you bring; from the financial benefits of data recovered to data securely wiped to devices reused or responsibly recycled. The process isn't so hidden anymore. Go ahead. Shine a little more light on it.
---
Want some more ideas for running your company sustainably and securely? Signup for our monthly digests to stay on top of the latest news.