What is IT Asset Disposition (ITAD)?
IT Asset Disposition (ITAD) is a process that large companies use to responsibly dispose of and recycle their outdated equipment. Sometimes referred to as IT asset recycling, ITAD refers to the overall industry of disposing of outdated or undesired equipment in an environmentally safe and responsible manner.
No matter what business you're in these days, it's a safe bet to say that technology plays an essential role in your work. Whether you run a technology-focused business or a hedge fund, you can't stay on top of your industry without the right computing equipment. But what happens when your computers get old and need to be retired? How can you safely dispose of your end-of-life equipment?
That's where ITAD comes in. A good ITAD provider knows how to wipe your old equipment and discard it properly and securely. ITAD companies can also figure out which parts of your unused equipment can be reused or recycled.
With data security, safety, and compliance in mind, ITAD providers focus on mitigating expenses and maximizing the value of the IT assets for their clients while providing secure data destruction with chain of custody documentation to support environmentally friendly e-waste recycling solutions. Other IT solutions that an ITAD provider typically offers include refurbishing and repairing used equipment, lease return management services, secure data erasure, on-site hard drive shredding, and data center decommissioning.
Why ITAD Matters
As a business grows, so will the need for more sophisticated computers and network equipment. Some of this equipment will make it to the end-of-life stage, while others are upgraded and replaced before its natural life cycle is up. The rapid replacement of equipment has made dealing with IT asset disposal an increasingly urgent issue. Few people realize that our reliance on new electronics comes with steep environmental costs ending with the disposal of used devices.
In 2019 alone, people discarded a record 53.6 million metric tons of electronic waste, and surprisingly, just 17.4% (9.1 million tons) of that was recycled. That means that over 44 million tons of e-waste just sit in a landfill somewhere.
Replacing and updating your company's technology is simple, but disposing of this equipment without contributing to environmental hazards while also protecting your data, requires a more complex strategy. ITAD providers specialize in managing these processes and focus on responsible and cost-effective disposal or remarketing of IT assets where profit is viable. Meaning more money can be rotated back into your budget, making it easier to keep your IT infrastructure at the cutting edge.
Protect from Risk and Data Exposure
ITAD helps you manage your company's exposure by safely sanitizing data and ensuring that your used equipment doesn't end up in landfills.
Support Sustainability Goals
Companies continue to focus on corporate sustainability initiatives. Concepts like sustainable sourcing, social value, and the circular economy are gaining steam.
Finance and Innovation
In the future, procurement will have to expand their financial skillsets and work closely with finance.

Chain of Custody Transparency
Knowing where your equipment comes from and where it ends up and how much each step costs, you can inject transparency into a difficult and opaque process.
The Relationship between ITAD and the Circular Economy
In general, the traditional linear economy and the technology equipment industry use a process where manufacturers intentionally create products with limited lifespan—giving purchasers no choice but to keep replacing these items. As ITAD providers, we are responsible for choosing between continuing to follow the standards set by a linear economy or following the progressive principles of a circular economy.
Organizations of all sizes in public and private sectors are rethinking their ITAD strategy, putting equipment reuse first whenever possible over asset destruction and recycling – a superior alternative to the current make-use-dispose approach. A circular economy for ITAD looks to redefine growth, focusing on society-wide solutions that benefit the consumer and the environment.
Whether you're an IT asset manager, recycling director, sustainability program manager of a corporation or a city government, the first step in more effective reuse starts with identifying what devices have strong secondary markets. These can include retired IT assets from users, residents, enterprises, offices, agencies, school districts, and data centers.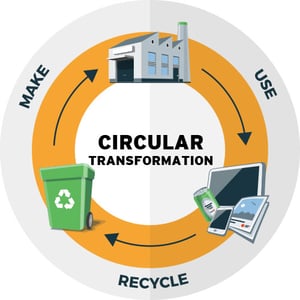 What is the Circular Economy?
The circular economy is exactly what it sounds like ‒ a circular pattern that continually reduces, reuses, and recycles scarce resources back into the supply chain to keep existing materials in circulation for as long as possible. Rather than extracting new, natural resources every time a product is created, and disposing of it once its lifecycle is complete (as the linear model does), the circular model plans for reuse from the very beginning.
It's a paradigm shift with a new supply chain process to get our heads around. In theory, it fully supports restoring our Earth by maintenance through repairs and remarketing strategies to extend the life of existing products and materials.