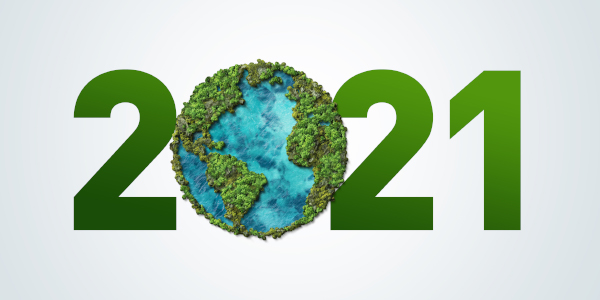 It's hard to believe that the first Earth Day was 51 years ago. In the decades since, the teach-in that U.S. Senator Gaylord Nelson led has grown to become an annual event that 193 countries around the world participate in and celebrate. As the movement has matured, there's been a growing realization that recycling alone will not help us reach our end goal – restoring the natural balance to our planet.
This year's Earth Day theme is "Restore our Earth," and it's all about reducing our environmental footprint and fixing the damage we've already done. Recycling is a great practice, but our efforts need to be amplified to a larger scale to make a real difference. In 2019 alone, a record 53.6 million metric tons of electronic waste was discarded, and surprisingly, just 17.4% (9.1 million tons) of that was recycled. That means that over 44 million tons of e-waste is just sitting in a landfill somewhere!
Imagine moving through modern life without a mobile device in hand? They've transformed how we communicate, work, learn, share news, and entertain ourselves. And during the COVID-19 pandemic, our mobile devices became even more essential when our daily in-person communications were moved online.
The thing is, few people realize that our reliance on electronics comes with steep environmental costs ending with the disposal of used devices. Consumers just can't resist faster products with more storage and better cameras, but all these upgrades that now make our world easier to navigate have created this growing waste problem! The solution for manufacturers: start to re-envision waste as a resource and collectively make a shift to a more sustainable and circular economy. That means moving from a linear economic model of take-make-use-dispose to a circular economy that makes-uses-recycles-remanufactures.
What is the Circular Economy?
The circular economy is exactly what it sounds like ‒ a circular pattern that continually reduces, reuses, and recycles scarce resources back into the supply chain to keep existing materials in circulation for as long as possible. Rather than extracting new, natural resources every time a product is created, and disposing of it once its lifecycle is complete (as the linear model does), the circular model plans for reuse from the very beginning.
It's definitely a paradigm shift with a new supply chain process to get our heads around, but in theory, fully supports the goal of restoring our Earth by maintenance through repairs and remarketing strategies to extend the life of existing products and materials.
Introducing Circular TransformationTM ‒ A Strategy to 'Restore our Earth'
We understand a proper sustainability plan should include reuse as the first option of IT Asset Disposition (ITAD) to keep products in use for longer to increase the lifespan of resources. However, when products and their parts reach the end of their useful life, you need to be assured those specific materials are being used to manufacture new products. This is where Circular TransformationTM comes in, an innovative process that provides the necessary traceability and tracking to create an open or closed-loop circular system for electronic waste.
Companies like Dell and Apple have successfully reconfigured their supply chains to include elements from the circular economy and are seeing benefits like lower costs already starting to show, but other benefits like reduced water consumption, lower emissions, and less waste in landfills will only be realized many years from now. Although we will not see immediate benefits moving toward the circular economy, the work we do now will surely make a difference and our children will thank us.
In shifting the paradigm, we have already taken great strides toward reimagining the supply chain and built a framework for tomorrow's circular economy through a one-of-a-kind single-tier downstream model simplifying the process by eliminating vendors that aren't needed. Previous Tier 4 companies are now Tier 1, providing for better data and tracking where smelters and refiners can provide direct data on raw materials and circularity applications. Through this process, Apto Solutions has achieved an important milestone clarifying the circular supply chain with transparency, improved data tracking, direct data on raw material from smelters and refiners, and verified supply chain traceability.

Learn more about our pilot program and how you can join the mission to help us achieve the future vision of a truly circular economy.