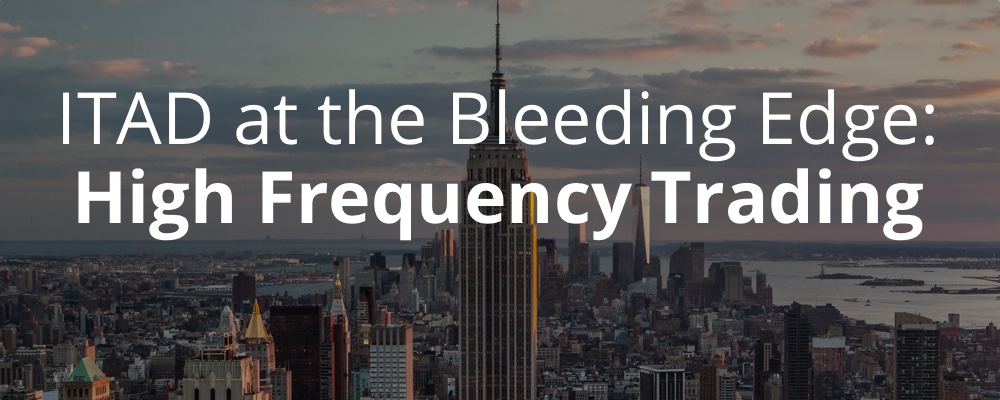 Think ITAD is just for old, out-of-date hardware? Think again. The high-frequency trading industry it renowned for it's cutting edge technology improvements. They helped ditch fiber and move to microwave to increase the bandwidth and reduce latency between New York and Chicago. The speed of light1 wasn't fast enough for them. We think that ITAD has a thing or two it could teach these bleeding-edge technophiles, but before that, let's start with the basics.
What is High-Frequency Trading (HFT)?
High-frequency trading (some times also called algorithmic trading, although that can refer to slower computer-backed trades as well) includes a variety of different applications, so it's a bit hard to pin down a specific definition. The U.S. Security and Exchanges Commission considers an entity to engage in high-frequency trading if they:
use extremely sophisticated and high-speed computer programs for generating, routing, and executing orders.
use individual data feeds from exchanges as well as co-located servers5 in order to minimize network and other types of latencies.
maintain very short timeframes for establishing and liquidating positions, resulting in the frequent turnover of many small positions in one or more financial instruments.
submit a number of orders that are canceled soon after submission.
maintain very few, if any, overnight positions.
How does HFT infrastructure differ from a typical data center?
Most traditional IT organizations build their infrastructures around security and uptime. While these factors are important to HFTs, latency drives most architecture and infrastructure decisions. HFTs take advantage of large asynchronous read/write caches to improve calculation rates. They may also use large distributed storage architectures, like Hadoop, for their improved data calculation speeds.
So, speed (low latency) is important, huh?
So important. It's not so much absolute speed that matters, it's relative quickness. It's kind of like running away from a bear – to be successful, you only need to beat the other runners. But with advancements in technology, this competition is determined by nanoseconds. Colocation of servers on in the exchange datacenter and the offloading of network activity to dedicated hardware continue to push latency ever closer to zero.
How can ITAD help High Frequency Traders?
Because HFT relies on the smallest margins of time, even a tiny increase in speed can be worth big money. If you work in HFT, you're always looking for an advantage; an improved algorithm, a better distributed storage method, better network hardware, or a faster CPU with more cache. The technology changes all the time and you need to stay out front.
Stay Ahead
Staying ahead means you need to upgrade as often as possible. But upgrading is also expensive. Even though it might be "worth" it based on the marginal speed increase, it still requires a lot of money and logistical coordination to upgrade regularly.
Get More
What if you could recapture more value from your "old" equipment? This equipment is likely only one generation old, and it has plenty of life left. This is where an ITAD company with a value recovery practice and a good network can help. Many companies don't require the bleeding edge speed that HFT demands – some would rather save the money. In fact, this desire drives a secondary market for equipment, and ITAD companies with a value recovery practice create liquidity by acting as market-makers on a variety of technology. This positioning enables these companies to know the market well and position the equipment to gain as much value as possible.
Move Earlier
The increased value that a well-verse company can help you gain in the secondary market may enable you to upgrade earlier in the release cycle. What could you do with a couple months head start? And, once you setup an ITAD process, you can change out hardware continuously – upgrading at the speed of your business.
Stay Safe
Also, by performing data sanitization on all your storage devices, ITAD companies will help you protect your proprietary algorithms and sensitive customer data.
At first glance, the ITAD industry may seem like slowpokes – technology traditionalists in a high tech world, but they have the ability to be so much more for your business. With the right tools and team members, ITAD can help even the most cutting edge business increase momentum.
---
Cutting edge technology needs a cutting edge disposition solution. Get started.
---
Light moves about 30% slower through fiber, so it's not exactly "light-speed". Then again, if anyone is going to find warp speed, I bet it's going to be high frequency traders. ↩︎