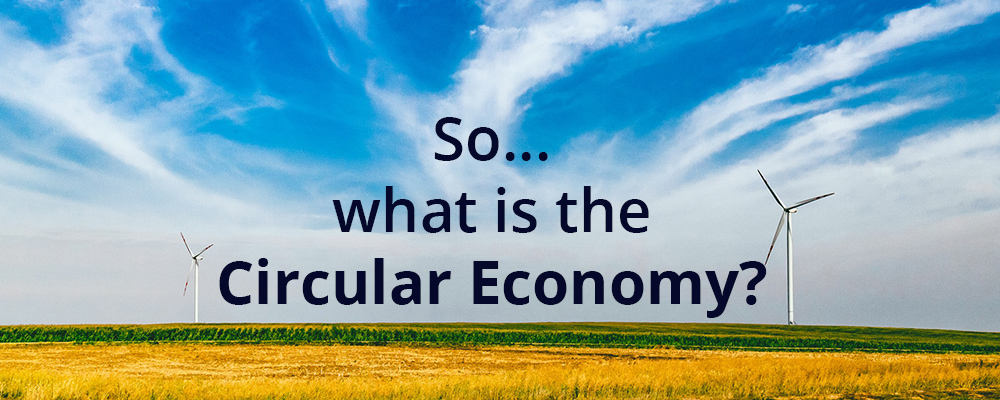 Our economy builds products, sells them, and dumps them, but what happens next? With the passing of time comes the need to adapt, and the global economy is no exception to the rule:
"The only thing that is constant is change."

Heraclitus of Ephesus (c. 500 BC)
Since the dawn of the industrialized age, embracing a linear model for product creation, use, and disposal propelled the economy forward. But, the depletion of natural resources used to create new products is shifting the focus onto a new kind of industrial model: the circular economy.
So, what is the Circular Economy?
The circular economy is exactly what it sounds like: it's a circular pattern that continually reduces, reuses, and recycles scarce resources back into the supply chain. Thus, it keeps existing materials in circulation for as long as possible. Rather than extracting new, natural resources every time a product is created and disposing of it once its lifecycle is complete (aesthetically and/or functionally, depending on the product) as the linear model does, the circular model plans for reuse from the get-go. The circular economy designs and creates with the mindset that all of your materials will be reused to create another product — resourcefulness and restoration are sewn into the fabric of its structure.
Prior to producing new equipment, only commodities necessary for the creation of the end product are gathered. This method is particularly beneficial for companies dependent upon scarce resources, such as those required for the semiconductors and circuit boards in so many products, ranging from enterprise storage to the phones in our pockets. Once the product is used to its full potential, the materials are recycled and repurposed, minimizing waste and limiting the energy usage required to harvest more materials. In some cases, these materials can also be upcycled, meaning that they can be recycled into higher-value products.
To extend the life of existing products and materials, the circular structure also supports maintenance through repairs and remarketing strategies. In other words, the cycle continually optimizes resources through processes commonly referred to as, "reduce, reuse, recycle" (In that order!).
Coming Full-Circle with Technology
Now, you might be thinking to yourself, "So, what does the circular economy have to do with the IT industry?" For starters, technology plays a huge role in monitoring the use and availability of materials and services. Information derived from technology asset management tools and special sensors provide businesses with hard data on where their materials come from, their availability, and the amount of energy it takes to produce them. The mined information also enables you and your tech administrators to identify weak spots in the production process, enabling you to recalibrate in a way that benefits your organization's productivity and financial standing. For example, costs that would typically be associated with the mining of new raw materials and waste management could instead be redirected towards additional R&D or retained to improve profitability.
However, the world's increasing dependency on technology is generating unprecedented amounts of e-waste. Products supporting technology like batteries, switchboards, computers and more can be created with more sustainable materials that won't just sit in a landfill, but actually contribute to repurposing them.
Companies like Dell and Apple have successfully reconfigured their supply chains to include elements from the circular economy. Some of the benefits like lower costs are already starting to show, but others like reduced water consumption, lower emissions, and less waste in landfills will only be realized many years from now. But we have a feeling our children will thank us.
—
Ready to improve your supply chain with circular economy logic?
It's time to close the loop.