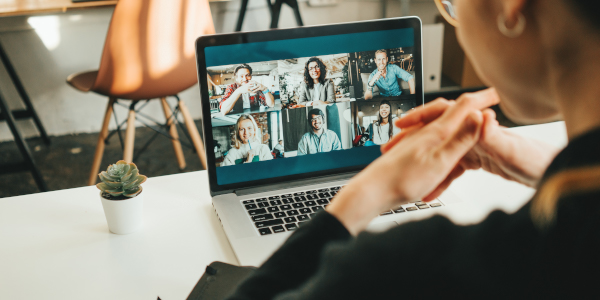 By now, if you're working from home, you've probably become very dependent on (and thankful for) your electronic devices - phones, tablets, laptops that made it possible for us to stay connected to the world this past year. Before the pandemic, these tools were already well integrated into our lives. Now, they've become seemingly essential, with demand for new electronic supplies and screen time soaring. Justifiably, many are focusing on the host of productivity and mental health effects as the boundaries between work and personal life become hopelessly blurred.
But there are other challenges as well - ones that, as the founder of an IT asset disposal (ITAD) company tasked with the safe and sustainable disposition of these electronic devices, I fear have fallen through the cracks.
Despite their usefulness, surges in demand for electronics often have an environmental cost - more devices flood the market, producing more plastics and other materials that are either correctly recycled or end up as landfill, as well as more precious metals used up. In many ways, this is a necessary stopgap to keep our society up and running. But when this surge happens suddenly and on a global scale - driven by companies and organizations that need to accommodate a massive shift to a remote lifestyle - the quantity of e-waste can increase exponentially.
Sending devices directly also causes data security issues. Because of the speed of the shift to remote working, many of these devices are not managed by Mobile Device Management (MDM) software to give an IT department lockdown and remote wipe capabilities. Devices are then shipped to an ITAD partner along an insecure supply chain and with potentially inappropriate packaging and labeling. This may currently be an unavoidable consequence of the pandemic, but it creates some opportunity for data to get mismanaged or put in the wrong hands, which can have dire consequences.
Reaching Our Potential
Even with these challenges ahead, remote working does present an opportunity to completely rethink how we deal with electronics. While their approach to these issues have improved substantially over the years, the pandemic may force businesses to quickly adapt and make their sustainability practices more efficient. For example, when the lockdowns started, there was a scramble to connect the workforce remotely, which created shortages of laptops and microprocessors that run everything from cars to toasters. Companies were forced to buy used products just to meet their needs. I expect the electronics supply chain will catch up at some point in the not too distant future, but imagine if the trend of reuse continued to grow even as employees started to return to the workplace. Companies should be prepared to encourage sustainable behaviors, perhaps driving a cultural shift that embraces electronic reuse as the norm.
Then there are other climate considerations. Typically, businesses send ITAD partners devices by the pallet or truckload, neatly packaged and securely shipped from the corporate IT operation. But working from home has ended that level of consolidation. Instead, each remote worker ships their device in individual boxes, which produce more cargo and more Scope 3 emissions from their transportation. Imagine Fortune 500 companies with more than 50,000 employees sending over 100 laptops a day, every day from all over the country in separate boxes directly from their employees' homes. It's a hugely inefficient waste of resources.
For example, there are various ways that companies can take sustainability into account for a mobile device refresh. First, they can allow each employee to purchase their work phones, tablets, and computers rather than returning them for disposition. This means the device continues to get used and doesn't have to get shipped anywhere - an ideal solution with the lowest environmental impact. But secondly, they can also promote good disposition behaviors - encouraging employees to send their ITAD partners any personal devices they might have sitting unused in drawers - as most of us are guilty of - to be sold or recycled. Any earnings from this can be used to buy computers for donation to charities and schools. What if everyone thought like that?
Promoting better and safer reuse and recycling behaviors also leads to fewer short-term errors, which gives IT departments time to modernize and implement better internal processes. This includes longer-term security measures - like VPN connections, MDM software deployed to remote units, or a protocol where the master or BIOS password is shared with the ITAD partner (so they can remain locked or encrypted during shipping), allowing them to unlock and securely erase the unit. It could also lead to improvements in tracking these devices through the recycling process - systems similar to our own Pulse platform. These tools could track assets - whether from a home or an office - and provide downstream information like emissions and more. This could ultimately lead to a future of complete circularity - a process by which all of the devices we outgrow can either be reused or broken down into materials that can all be used in the next generation of products and devices, with nothing wasted.
Corporate Sustainability awareness and execution reach new levels every year and I expect that trend to continue. But we must not let the pandemic lead to regression. So long as we can recognize and address the effect of things like remote work, we can remain on the course to a better future - with companies, individuals, and employees taking the lead and modifying their habits to safeguard their data and decrease their impact on the environment.