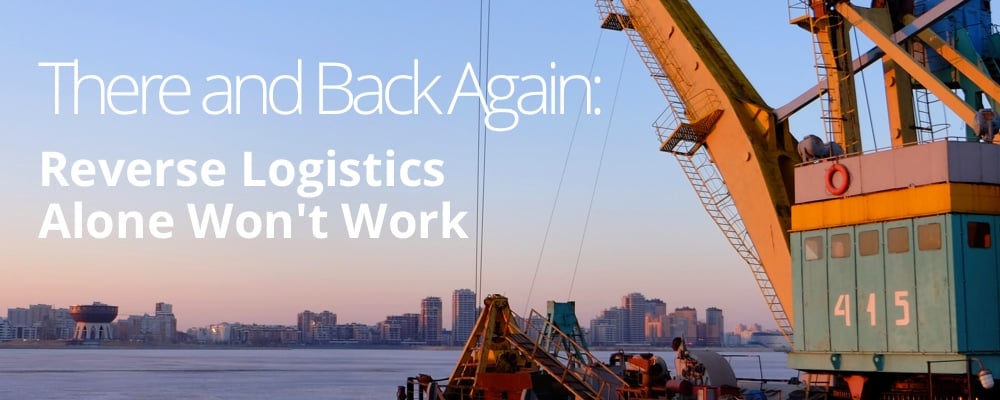 Since their foundation, logistics companies have delivered from manufacturers to distributors to customers. They honed the process and streamlined it into a (transportation) science. UPS, for example, became famous for their "no left turns" policy1. But for a long time traditional logistics nursed a growing problem. They could deliver efficiently, but if they tried to reverse the process, everything moved like molasses – in the winter. It wasn't until the late 1990s that Dr. Dale S. Rogers (not to be confused with Mr. Rogers who was a pro at Trolley transportation to Make-Believe) formally defined the term reverse logistics in his book Going Backwards:
"The process of planning, implementing, and controlling the efficient, cost-effective flow of raw materials, in-process inventory, finished goods, and related information from the point of consumption to the point of origin for the purpose of recapturing value or proper disposal"

— Dr. Rogers
Companies typically associate reverse logistics with undesirable inevitabilities like Returns, but a few other more desirable reason should stand out just as much today: Reuse, Recycling, and Value Recovery. (Yes, I know that Value Recovery starts with a 'v', but come on…work with me here!)
Renewed focus on reverse logistics
In January of 2015, FedEx brought reverse logistics back to the forefront with their purchase of GENCO, the top reverse logistics provider and one of the largest 3PLs (third party logistics providers) in North America2. The attention this brings shed a new light on the importance of efficiently managing the entire product lifecycle and thoughtfully considering what happened next…, but even that doesn't go far enough. You need to consider more than just the logistics— you need to know the product.
But what if the returned product differs from original deliverable in a dangerous and potentially costly way?
The importance of important data
Last week we talked about data security being a New Normal of doing a business. How does this effect the logistics industry? I'm glad you asked.
We've already established that the logistics industry delivers efficiently to there (wherever 'there' is), and has made great strides over the past 15 years in bringing equipment back again. But what if the returned product differs from original deliverable in a dangerous and potentially costly way?
The sensitive data that these devices acquire over their life of service renders them into time bombs that should be defused before they are shipped. This sensitivity causes fortune 500 companies to bring in shipping experts, ITAD-focused 3PLs, to handle these sensitive logistics with safe and repeatable processes.
Knowing is only half the battle
If the past 15 years working in the logistics industry have taught us anything, it's that we expect the consolidation to continue and partnerships between large logistics companies and specialty logistics vendors to expand as the need for competent transport increases.
End users have their own role to play as well. Just because a logistics company has experience shipping equipment doesn't mean that they have the specialized experience to handle the sensitive data that builds up, or the market knowledge to recover the true value of the equipment. Do your homework and ask the tough questions before you start your next project. Your customers, and their data, will thank you.