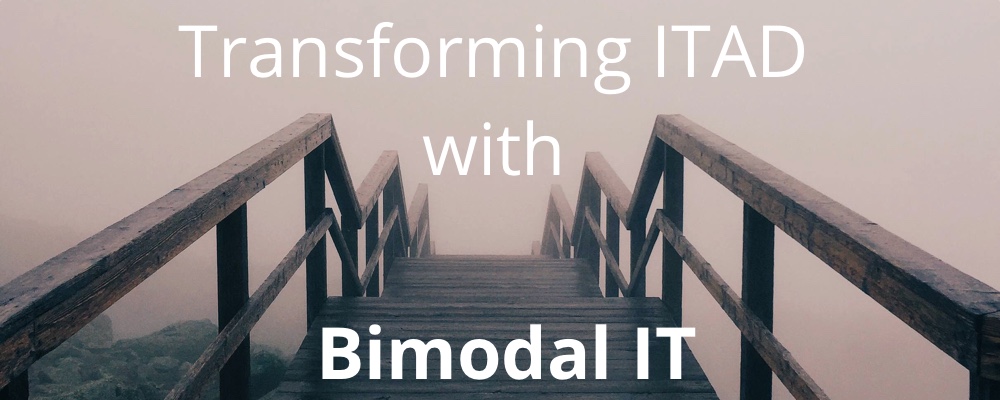 As we head into the Gartner Symposium this coming week, I wanted to take a moment to focus on a topic that will continue to be emphasized by Gartner for the remainder of the year: bimodal IT. Not just the basic plan of separating your IT development into two halves, traditional and innovative – that's been done to death. At Apto Solutions, we specialize in the afterlife of IT, so I wanted to give you the ITAD take.
There have been plenty of articles written for and against bimodal IT. Proponents argue that the separation of roles allows teams to focus on their specialties; type 1 on maintaining the secure, mission-critical portions of the business, and type 2 on experimenting and defining the future of IT in the organization. Opponents point out the personnel challenges – most motivated and innovative employees choose to work for type 2 teams, and the inability for traditional IT (type 1) to evolve without direct input from the innovative type 2. The ITAD industry also struggles with this dichotomy on the path to IT transformation.
I believe that bimodal IT represents the cognitive dissonance associated with the demands of the modern IT environment. As IT leaders, these demands pull us in a variety of directions, and we must give ourselves time and space to evaluate and test new solutions while we maintain our existing businesses. In ITAD, this all starts with good processes.
ITAD's Proven Processes
Smart IT leaders rely on ITAD vendors for their proven processes. These processes withstand rigorous testing and verification and undergo regular re-evaluation to certify their compliance with standards like ISO, R2, and e-stewards. This 'tried and true' mentality enables ITAD vendors to shield you from the myriad consequences of a failed decommission; including the fines and pr headaches that come with lost data and improper disposal. ITAD vendors with strong type 1 expertise will help you safely close out your mission-critical projects with proper afterlife asset management that can save you millions of dollars. ITAD vendors must be stable and reliable, but if they don't ever change, they'll eventually become stale and useless.
Innovation in a 'Boring' Industry
ITAD vendors sit on an important growth sector for the IT industry. That may seem counterintuitive for those that think of ITAD vendors as glorified waste disposal companies, but consider this: ITAD companies perform on the front lines of data sanitization, value recovery, and complex logistics projects every day. We make sure that your security team's hard work isn't wasted by a lost harddrive; that the planet doesn't become overwhelmed with toxic e-waste; and that your equipment arrives on-time and safely at the correct destination. If ITAD is to become better at dealing with the growing challenges of data sanitization and e-waste, ITAD vendors, the ones closest to the action, must be the ones setting the pace of innovation.
In ITAD, this innovation looks a lot more like the service-based model that proliferates next generation IT thinking. As with other industries, ITAD is turning towards creative software and different ways of thinking that encourage smart risks in the right areas. Let me be clear: risks should never be taken that interfere with proper data sanitization or responsible recycling methods. Instead, ITAD vendors must evolve their implementation of the processes to keep pace with modern IT. We've implemented our own "Hacker Challenges" as a sort of skunkworks for testing out new ideas. This has enabled us to move quickly to test new solutions quickly without disrupting the normal pace of work.
Process + Implementation = Transformation?
At its core, bimodal IT provides companies with a path to transform from legacy IT to an agile way of dealing with technology. This complex process requires rethinking architectures and retraining employees to take advantage of agile methodologies. ITAD will not escape these changes. For ITAD to continue to grow with the IT industry as a whole, we must combine proven processes with creative delivery of the ITAD solution.
---
Curious about our innovations in ITAD process implementation? Setup some time – We'd love to share!