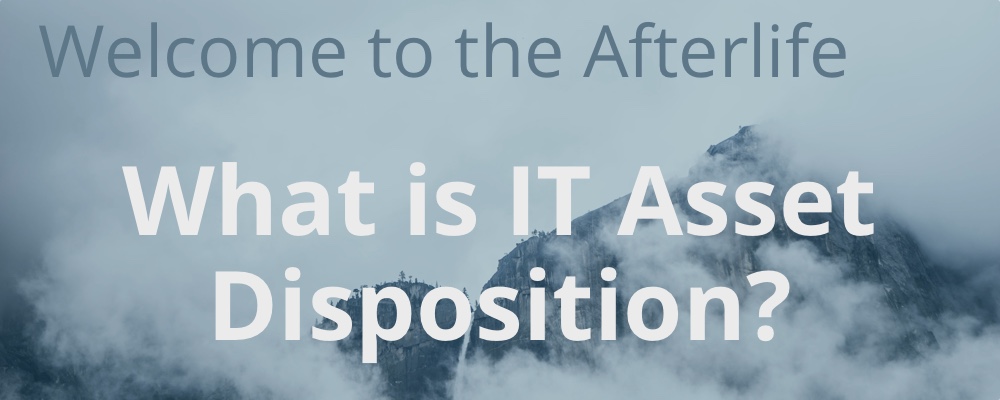 Where do electronics go when they die?
Why do we send them there?
Do all servers go to heaven?

We will answer these questions and more in this series covering the basic ideas of IT Asset Disposition (ITAD). Each post will introduce (or reintroduce) tech specialists to the afterlife of IT from 'how to' to 'have to'. Know someone who needs a refresher? Send this their way and we'll get them back on track.
All great stories should start as close to the end as possible, but for clarity, we'll just begin at the beginning…
What is IT Asset Disposition (ITAD)?
ITAD is the safe and environmentally responsible disposal of outdated or unwanted equipment (especially electronic equipment).
Before 2007, the term "ITAD" was almost entirely unmentioned in news articles, but it exploded onto the scene in December 2006. This rise correlated with the growth in importance of the ITAD movement, and especially the rise of environmentally and socially conscious companies.
You may think that ITAD is just a fancy way of saying, "get rid of it", and you'd be right, but only if you view ITAD at the most basic level. In practice, IT asset disposition goes much further.
Market
ITAD specialists analyze the outdated or unwanted equipment in question and provide a recommended means of disposal based on a variety of factors. Market value, the speed (velocity) of the market for that item, the repairability, and the value of the raw materials must all be analyzed to determine the best next step for disposition. Basically, ITAD companies are the priests of the church of "get rid of it". They can help you clean up the mess at the end, but they help most when you get them involved before you get in trouble.
Environment
ITAD analysts must also consider the environmental impact of the disposal. You've probably seen the devastation that e-waste can wreak on the environment. Proper ITAD companies want to put a stop to this through the reuse and recycling of the equipment. Keep in mind — reuse (or resale) will almost always be more environmentally friendly than recycling since breaking down the equipment into its component pieces and melting those back into usable ingots requires energy that must be generated through some other process.
Security
Finally, companies that manage the IT asset disposition process must protect the valuable data that resides on the equipment itself. ITAD companies can help you meet regulations by following strict processes that build in safe data-sanitization practices. Too many companies have spent millions on security only to be breached through leaked data from a wayward hard drive. The process protects against this.
So, why do any of this?
In our experience, companies enact ITAD policies for one (or more) of these three primary reasons:
They Have to (Legal)
They Should (Ethical)
They Want to (Social)
We'll dig more into these in the future. Stay tuned…
Did this help you understand ITAD a little bit better? Or do you want to know more about a different specific topic? Let us know through LinkedIn or Twitter. We'd love to hear from you!