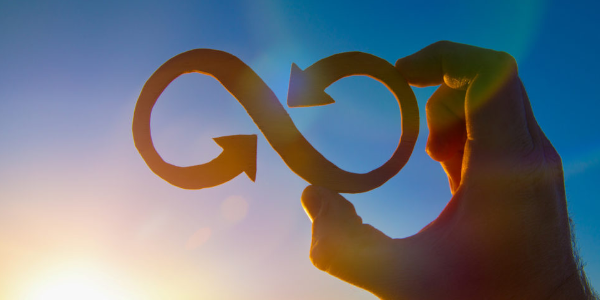 This is not the first column I've written about sustainability in the last 6 months. There is a lot of talk about the circular economy. One ITAD company is walking the walk. It's harder than you think.
The topic seems to come up in nearly every interview I do with a senior level supply chain executive. That includes companies as diverse as J&J, Walmart and Fresh Del Monte. In a recent conversation, Sumit Dutta, EY's North American supply chain practice leader, noted sustainability as one of the five key trends his firm's customers are asking about. He added that companies are finding that as sustainability migrates from sloganeering to engineering, just getting a handle on what's happening in a company's supply chain takes time – it's one thing to talk the talk, it's another to walk the walk.
Apto Solutions is one of those companies attempting to walk the walk. Back before the holidays, I had a chance to talk to CEO Jeff Jones and Caroline Allman, Apto's chief compliance and sustainability officer, about the release of the 2020 circularity report – it takes awhile to collect the data.
More on that in a moment, but first, a little about Apto Solutions. As an ITAD, or IT asset disposition company, circularity is in Apto's DNA. According to Jones, the company was founded in 2001 around the time the dot.com bubble burst. "Some acquaintances were liquidating companies and the options for recycling technology were limited," Jones recalls. "We developed a core disposition company with systems that provided transparency so that buyers knew what they were getting and sellers could see what had happened to their equipment and what it was worth." They also specialized in distressed situations, working with companies like GE Capital to dispose of their off-lease portfolios.
The big challenge: Business was great during the tech meltdown, but banking on an industry collapse isn't a growth strategy. "We had to develop something else, or we'd be distressed," Jones says.
To expand the business, Apto began to work with Global OEMs and large enterprises that consume a lot of IT products like computers, servers, laptops and cell phones that will eventually become obsolete and need to be responsibly recycled.
The framework for Apto's business offerings is outlined by Gartner: Be geographically located to clients; sanitize the data on the equipment; provide information on what's happening to the equipment; and provide core processing functions such as receiving and responsible recycling that is within legal boundaries. "We have an extremely robust reporting system so that our clients can see in real time the status of their assets," Jones says. "If we sell it at a price, they can see why; we provide certifications of sanitization and destruction of hard drives; chain of custody compliance; and we provide circularity and ESG reporting within that framework."
In the circular supply chain, Apto's facilities are the waypoint between a corporate customer or OEM disposing of its equipment and the point at which the components, parts and materials that went into manufacturing the equipment are recycled to a smelter or shredder and then incorporated into other products.
So far, so good. Jones and Allman note that in recent years, there has been a steady increase in the necessity to address sustainability. "It used to be that everyone just wanted a certificate of destruction," Allman recalls. "As consumers and companies have become more sophisticated and realize that there are metals and chemicals that aren't good for the environment or human health, they want traceability to know that we're recycling to standards."
Apto customers also wanted visibility into more than just how much product was recycled versus going to the landfill. They wanted answers to questions such as what's the impact of extending the life of a piece of equipment; how much electricity is consumed to sanitize data; if it is recycled, how many times is it being shipped through the recycling process? "Even if heavy metals aren't going to the landfill, customers want to understand how many times those metals have to be transported in order to be smelted and then reused," Allman says.
Trying to get a handle on those questions led Apto to reconsider its own operations. According to Jones, back in 2019, the company realized that because 70%-to-80% of the products it processes are reused, only a small percentage was going to smelters and shredders. Meanwhile, those processing companies didn't want to deal with small deliveries, so "we were going through multiple hops through vendors who consolidate material to get it to the smelter," Jones recalls.
All those hops added to the company's carbon footprint. What's more, there was visibility into the amount of product that went to a smelter or shredder, but no visibility into what happened to that material afterwards. "Around Q4 of 2019, companies in our industry were publishing sustainability reports," Jones says. "We wanted to think about it differently and see if we could report on circularity: What happens to all of that material and what is it turned into?"
The task of getting rid of the hops, skips and jumps, along with gathering the data to create the circularity report, fell to Allman. That led essentially to a two-year redesign of Apto's supply chain and processes.
A first step was finding smelters and shredders that would work directly with Apto. Next was to build scale to aggregate large quantities of material; part of that was talking to large OEMs and component suppliers to see if they would work with Apto to recycle their product. With that additional product, Apto had to develop new sorting and storage methods. "We looked at all of our outbound product and sorted it by the materials and metals, such as plastic, circuit boards and metals," Allman says. "Instead of clearing our docks every two weeks, we developed storage capabilities to hold materials until we have enough to send out a load once a month."
The next step was getting information on what happened after those recycled materials left a smelter or shredder. "No one had asked these large shredders and smelters for details on their customers and what they did with the material," Allman says. That was easier said than done, and in some instances, it required signing NDAs in order to access the information.
"After doing it for one year, we learned our lessons," Allman says. "In the third year, it's going much more smoothly."
The circularity report documents the results of that activity. Apto can now report details such as inbound weights, or what was received, and outbound weights, or what went out. They can also report on the types and quantity of products that materials were recycled into. And finally, the Circularity Report can report on where things went.
"We have a nice reverse supply chain map that details where things went," Jones says. "We wanted data driven results, and we can tangibly show what happened through the supply chain, what products the materials were turned into and whether the weights matched." That information is available to Apto's customers to use in their own sustainability reporting.
As a side benefit, Allman says, "smelters and shredders are telling us that it's improving their operations. They weren't getting this kind of information before, and now they can report to their upstreams as well."
You can view the Apto Solutions Circularity Report here.
Read the original article in Supply Chain Management Review Magazine
Read the original article in Modern Materials Handling