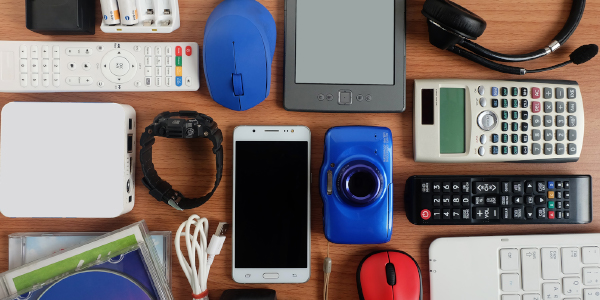 At this point, you probably don't need me to tell you that we have a plastics problem. In the last five years, we've sounded the alarm about single-use plastics and the burden their use has placed on the planet. You've likely seen pictures of beaches riddled with plastics and waste from the U.S. and other countries or of the Plastic Island in the Pacific Ocean. I think most point to WW2 as the turning point with plastics — when they became part of everyone's everyday life — but now the issue is bigger than just packaging and toys. Our cars have more plastic than ever. Our drinks, our bread, even our hand sanitizer — all packaged in or contain plastic.
Add to that the fact that growing overseas import restrictions means that more of our plastic is staying in the U.S. with fewer places to put it all. And the pandemic is only making it worse. Masks, gloves, disposable containers (from all that restaurant delivery), sanitizer bottles — all these new things are being thrown into the average household garbages in amounts we've never seen before. Not to mention the huge jump in purchases of plastics-filled electronic devices to service our work-from-home, remote learning world.
But that same pandemic also has provided a moment of self-reflection for the IT asset disposition (ITAD) industry. Companies such as mine and others are tasked with safely disposing of all of our electronic workplace gear and gadgets. It's given electronics manufacturers, as well as tech and data companies, a chance to take a step back, review their programs and see if they can take a more sustainable approach. That even means changing our thinking around items that may be seen as "low end" for a normal customer but perfect for a third-grader who just needs access to Zoom and a few websites. It's an opportunity to prioritize reuse.
Original equipment manufacturers (OEMs) have perhaps the tallest order in scoping sustainable and recycled materials in their product and also providing customer takeback programs, which must be widely adopted by corporations and consumers to be effective. In fact, several OEMs have earned awards and acclaim from the EPA for their efforts. Dell, in particular, has been a leader both for their efforts in establishing circular practices and electronics recycling. But as the issue grows exponentially, there's still room for large-scale improvement.
The goal always should be creating circular economies — in which all the devices we outgrow either can be reused or broken down into materials that can be used in the next generation of products and devices, with nothing wasted. But that's where plastic always has been a stubborn challenge. The issue is not plastic in our devices, but that it's prohibitively hard to dismantle and separate the materials so that the plastic can be recycled. In a world where lower cost results in greater access, the use of plastic in electronics makes sense. But if it cannot be easily removed from the other components, then it could end up in a landfill or on its way to another plastic island.
So, we have to be more responsible and make simple changes where we can. If we really need plastics to make the devices that will guide us into better ways of living and working, we'll need some better rules.
New rule No. 1: No more blending
Some electronic equipment has multiple types of plastics that make sorting and consolidation hard or impossible. When you have a few grams of one plastic, a few grams of another, and countless others you don't even know about, how are you supposed to collect homogenous mixes of plastics easily and effectively?
Even worse, some devices have a sort of rubberized texture on their plastics, which I fear may create additional problems. While the rubber makes it slightly easier to hold a device, I think this is done mostly for aesthetic reasons — the flat finish is popular. But it's also notoriously difficult to recycle from electronics, so if something such as rubber is being used to make a texture on top of the plastic, it could exacerbate the recycling issues.
New rule No. 2: Label everything
Well over 50 percent of electronics that come into our facilities are poorly labeled. Believe it or not, poor labeling is one of the biggest issues within electronic device plastics recycling. So much so that if most plastics in laptops were stamped with its plastic-type on the outside and easily visible, it probably would make a decent dent in our electronics plastics problem.
The labeling is currently in a shade of color slightly lighter than the chassis (again, for aesthetics) so it can be easy to miss, and it's in a size that requires a magnifying glass or young eyes to read.
To the OEMs' credit, I don't think anyone realized labeling would be an environmental issue. The initial goal of using plastics was probably durability — making things lightweight, tough, and cost-effective — which meant more small pieces that had to be different blends (for instance, to prevent fires) so labeling was a secondary concern. But now that we know it's an environmental pain point, it's crucial that we change it.
New rule No. 3: Communication and transparency
Electronics recycling is a complex world to navigate, with a need for national recycling policy and a host of supply chain issues that must be resolved before true circular economy can be achieved. It's a heavy lift that requires the entire industry to work together to not only specify recycled materials but also create enough demand for those materials to make it a sustainable change.
That said, electronics recycling in general needs to be more of an open book. That means a coordinated effort across the entire design and supply chain, where recycled plastics are designed into the products, and procurement is sourcing the recycled materials from their own recycling programs and others to create new, closed-loop products.
Companies often use several manufacturers to make different models of equipment and sourcing plastics depends on where they intend to distribute the equipment as well. This makes proper communication inconvenient, requiring a lot of time and effort. But with the potential positive impact, it's also essential.
Yes, this new way forward will take investment and a different mindset by electronics-makers around balancing aesthetics, cost, and durability with the needs of the environment. But, for the sake of the planet, we all need to do what we can, taking simple steps that hopefully will lead to a world with much less plastic pollution.